Balsamic vinegar of Modena: the treasure of Emilia-Romagna's history and flavors
Balsamic vinegar of Modena is an unique condiment, appreciated all over the world for its unique and versatile taste. But what are the origins of this product and how is it produced? Balsamic vinegar of Modena has its roots in ancient Rome, where it was used as a condiment, medicine and preservative. Over the centuries, its production was concentrated in the region of Emilia-Romagna, particularly in the provinces of Modena and Reggio Emilia.
In the Middle Ages, balsamic vinegar began to be produced only by noble families and monasteries. It was not until the 19th century that its production spread to farming families, who began producing it for personal and commercial use. The tradition of producing balsamic vinegar of Modena has been handed down from generation to generation, and its fame has reached international markets due to its unique quality and unmistakable flavor, becoming a symbol of Italian gastronomic excellence.
Balsamic vinegar of Modena is produced primarily from cooked must, or cooked grape juice, typically from Lambrusco or Trebbiano grapes. The cooked must is fermented naturally, without the addition of wine vinegars. This process takes at least 60 days for balsamic vinegar from Modena PGI, while for traditional balsamic vinegar from Modena PDO it takes at least 12 years. Aging takes place in wooden barrels of different woods, such as chestnut, cherry, oak and juniper. Each year, the product is transferred to smaller barrels of different woods, allowing the vinegar to absorb the scents and characteristics of the different woods. This process gives Modena balsamic vinegar its unique and unmistakable flavor.
---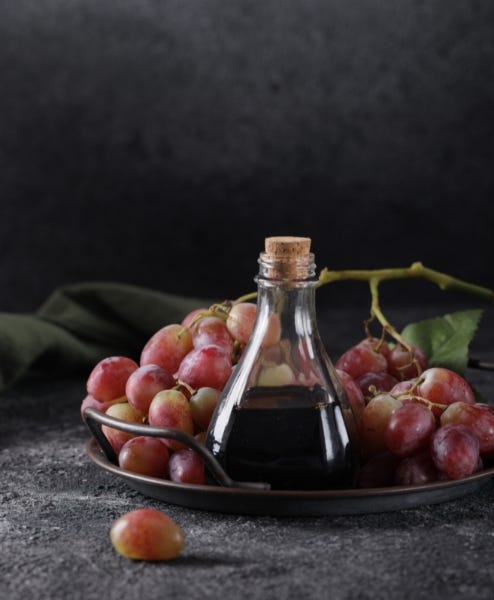 The nuances of balsamic vinegar of Modena and its beneficial effects
Traditional balsamic vinegar of Modena PDO is the most valuable and authentic product among all types of balsamic vinegar. It has a minimum aging of 12 years for the "Affinato" version and 25 years for the "Extravecchio" version. It is sold in bottles that are characteristically shaped and sealed with the Consorzio di Tutela mark.
Balsamic vinegar of Modena PGI has a wider production range and is accessible to a wide audience. In fact, the minimum aging is 60 days, but it can last for several years. Finally, there is balsamic dressing, which is a product similar to balsamic vinegar of Modena but does not follow the same production and certification rules. It can be produced with different methods and ingredients, resulting in a wide range of flavors and qualities.
In addition to being a delicious condiment, balsamic vinegar of Modena also has some health benefits. Among them:
Rich in antioxidants: balsamic vinegar contains polyphenols, substances with antioxidant properties that help fight free radicals and prevent cell aging.
Digestion: due to the presence of organic acids, balsamic vinegar aids digestion and helps reduce the feeling of heaviness after meals.
Blood sugar control: studies have shown that balsamic vinegar can help reduce blood sugar spikes after meals, promoting better blood sugar control.
Antibacterial properties: balsamic vinegar has natural antibacterial properties that can help prevent infections and improve the health of the gastrointestinal tract.

---
The art of cooking with balsamic vinegar: recipes and pairings for all tastes
Balsamic vinegar of Modena is a fundamental ingredient in Italian cuisine, appreciated for its versatility and unmistakable taste. Thanks to its unique organoleptic properties, balsamic vinegar lends itself to many culinary combinations, enriching and enhancing the flavors and aromas of the most diverse dishes. Let's discover together how best to use this condiment.
Appetizers and salads: balsamic vinegar pairs beautifully with the classic caprese, enhancing the flavor of tomatoes and buffalo mozzarella. Even in mixed salads, balsamic vinegar proves to be a valuable ally, imparting a sweet and tart note that goes well with the bitterness of the vegetables.
Pasta and rice courses: balsamic vinegar is able to give a touch of originality and flavor. It can be used to flavor risottos, such as radicchio and balsamic vinegar risotto, or to dress a cold summer pasta with cherry tomatoes, arugula and Parmigiano Reggiano.
Main courses: balsamic vinegar is an ideal condiment for meat, poultry and fish main courses. For example, a reduction of balsamic vinegar can perfectly accompany a cut of beef or a chicken breast. Also, balsamic vinegar goes well with fish, as in the case of marinated salmon with balsamic vinegar, honey and mustard.
Desserts: surprisingly, balsamic vinegar also lends itself to use in sweet preparations. A classic example is strawberries marinated in balsamic vinegar, a fresh and original dessert. In addition, balsamic vinegar can be used to flavor ice cream, panna cotta or fruit cakes, adding a contrasting note that enhances the flavors.
---
Flavors and aromas of balsamic vinegar of Modena: a journey between sweet and sour
In general, balsamic vinegar has sweet, slightly caramelized notes due to the presence of cooked must, and a balanced acidity that comes from the fermentation and aging process in wooden barrels. Balsamic vinegar from Modena PGI, on the other hand, has a wider and more varied range of flavors, as the aging time can vary from 60 days to several years. In general, balsamic vinegar of Modena PGI has a fresher and lighter taste than traditional, but still features the balance of sweetness and acidity typical of balsamic vinegar. Aging in different types of wood, such as chestnut, cherry, oak and juniper, gives balsamic vinegar additional nuances of flavor and aroma, such as hints of vanilla, nuts or spices.
When using balsamic vinegar in cooking, however, you need to pay attention to some factors. First, dose carefully: balsamic vinegar has an intense flavor, so it is important to use it sparingly to avoid covering the taste of other ingredients. Choosing the right quality is crucial: a PDO or PGI balsamic vinegar from Modena guarantees a superior taste experience compared to a lower quality balsamic dressing. For more refined and special dishes, prefer an aged traditional balsamic vinegar. Experiment to improve: don't hesitate to try new pairings and experiment with balsamic vinegar in the kitchen. The possibilities are endless and you may discover surprising new flavor combinations.
Balsamic vinegar is an excellent ingredient for preparing marinades for meats and fish. Its acidity helps tenderize and flavor meats, while its distinctive aroma adds a unique touch of flavor. Mixed with olive oil, spices and herbs, balsamic vinegar becomes an excellent base for flavorful marinades. As for sauces, balsamic vinegar can be used to make reduction-based sauces, perfect for accompanying red and white meats. In addition, it can be combined with other ingredients, such as mustard or honey, to create contrasting sauces that enhance the flavor of dishes. Finally, balsamic vinegar is an ideal condiment to enhance the flavor of cheeses and cured meats. A drizzle of traditional balsamic vinegar from Modena PDO on a slice of Parmigiano Reggiano creates an unforgettable flavor pairing. Similarly, balsamic vinegar can be used to flavor platters of cured meats, such as prosciutto, coppa and salami.
Discover the products and pairings
Longino & Cardenal stands today as one of Italy's leading "food globetrotters." With passion and courage it carries out a continuous search for the best raw materials, often little known to most, in order to meet the new trends in consumer behavior that seek excellent products proposed in innovative forms. All our deliveries use specialized, refrigerated couriers.
---