Extra virgin olive oil: History, characteristics and benefits of Italy's liquid gold
Extra virgin olive oil is a treasure that has enriched Italian and Mediterranean culinary culture for centuries. This liquid gold, precious for its organoleptic qualities and health benefits, is the result of an ancient tradition and knowledge passed down from generation to generation.
The origin of olive oil dates back to ancient Mediterranean civilizations, including the Greeks, Phoenicians and Romans, who appreciated its nutritional and therapeutic qualities. The tradition of olive growing has since been consolidated over the centuries, with Italy now one of the world's largest producers. The different varieties of extra virgin olive oil depend on many factors, including the type of olive used, terroir and production techniques. In Italy, there are more than 500 olive cultivars, each of which gives the oil a unique flavor profile.
Extra-virgin olive oil is rich in antioxidants and polyphenols, molecules that help protect the body from cellular aging and degenerative diseases. Among these, oleuropein and hydroxytyrosol are particularly effective in fighting free radicals. Extra-virgin olive oil is composed mainly of monounsaturated fats, particularly oleic acid, which help maintain "good" cholesterol and reduce "bad" cholesterol. This makes extra virgin olive oil a valuable ally in the prevention of cardiovascular disease.
To choose a quality olive oil, it is essential to read the label carefully and check for certifications issued by independent organizations, such as PDO (Protected Designation of Origin) or PGI (Protected Geographical Indication). A good extra-virgin olive oil is distinguished by its color, which can vary from green to golden yellow, depending on the variety of olives and the harvest period. The aroma should be fruity, with notes of fresh grass, leaves and artichoke, while the flavor should be balanced between bitter, spicy and sweet.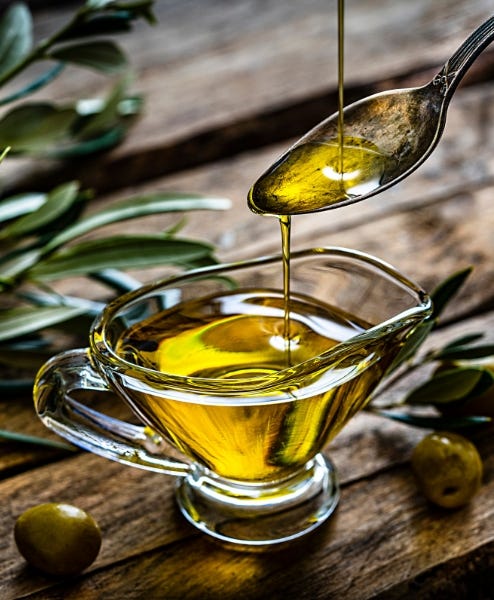 ---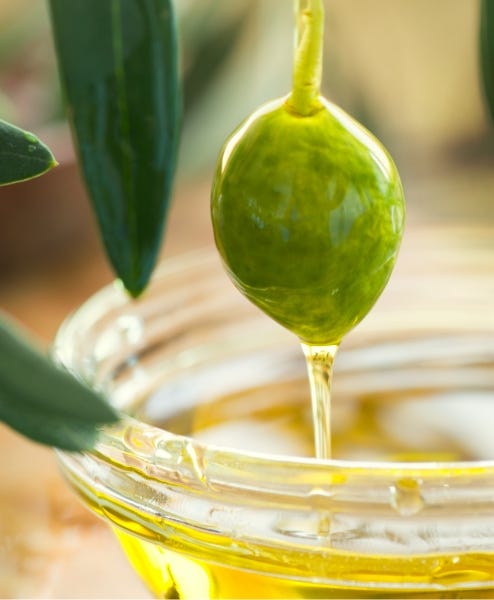 Between Sicily and Umbria: regional excellence in extra virgin olive oil production
Italy is a land rich in biodiversity and food and wine traditions, and extra virgin olive oil is one of its symbols. In particular, Umbria and Sicily boast high quality oil production, thanks to their diverse olive varieties and unique climatic and territorial conditions. Here is a guide to the olive varieties that make Sicily and Umbria unique in the Italian olive oil scene.
Sicilian Extra Virgin Olive Oil
Nocellara del Belice: this is one of the most representative olive varieties of Sicily, particularly of the province of Trapani. The oil produced from these olives is characterized by a medium-intense fruity aroma, with notes of tomato and almond, and a balanced taste between bitter and spicy.
Tonda Iblea: Here is another excellent Sicilian olive variety, native to the Monti Iblei area in the southeast of the island. This cultivar produces an olive oil with an intense and persistent fruity aroma, with notes of fresh grass, green tomato and artichoke. The taste is characterized by a pleasant balance between bitter and spicy, with a remarkable aromatic persistence.
Umbria Extra Virgin Olive Oil
Frantoio: This olive variety is widespread in Umbria. The oil produced from these olives has a medium fruity aroma, with a well-balanced bitter and spicy taste, and notes of almond and tomato.

Dolce Agogia: this is a typical olive variety from the Trasimeno area. As the name suggests, the oil obtained from these olives is characterized by a sweet and delicate taste, with a light fruity aroma and a low presence of bitterness and spiciness.

---
Cooking with extra virgin olive oil: tips and techniques for healthy and tasty cooking
Extra virgin olive oil (EVO) is a staple ingredient in Italian and Mediterranean cuisine, prized for its aroma, taste and numerous health benefits. But how best to use evo oil in cooking? Here are some tips and suggestions for harnessing the full potential of this precious golden liquid.
Salad and vegetable dressings: one of the best applications of olive oil is as a raw dressing for salads, grilled or steamed vegetables. Just a drizzle of extra virgin olive oil is enough to enhance the flavor of ingredients and enrich the dish with its nutritional properties.

Bruschetta and bread croutons: Bruschetta and croutons are a classic example of how extra-virgin olive oil can make a difference. Spreading a little olive oil on slices of toasted bread, perhaps along with fresh tomato, garlic, basil or other ingredients, will make these simple appetizers unique.

Sauces and pesto: extra virgin olive oil is the basic ingredient in sauces and pestos, such as pesto alla Genovese, alioli, or parsley sauce. In these preparations, olive oil is combined with herbs, garlic and other ingredients, resulting in flavorful and versatile dressings.

Stir-fry: olive oil can be used to sauté and stir-fry vegetables, meat and fish. The key is not to overheat the oil, so as to preserve its properties and avoid the smoke and harmful substances. Remember that the ideal temperature for cooking with olive oil is around 180°C.

Baking: olive oil can also be used in baking, for example brushed over vegetables, meat or fish before cooking, or mixed with marinades and sauces to enrich dishes.
---
Techniques for tasting extra virgin olive oil
Tasting extra virgin olive oil is an art that allows you to appreciate its qualities and recognize the different nuances of flavor and aroma. In this article, we will guide you through olive oil tasting techniques, with useful tips to become a true expert taster and be able to choose the best oil for your palate.
Preparation for tasting: to begin an extra virgin olive oil tasting, it is important to create the right environment. Choose a place that is quiet, well lighted and free of odors that might interfere with sensory analysis. Use small blue or dark green glass glasses to mask the color of the oil and focus on its organoleptic properties.
Visual assessment: although color is not an indication of the quality of olive oil, it can provide insight into its characteristics. Pour some oil into the glass and observe its appearance: a clear, bright oil is an indication of good preservation.
Smell evaluation: cover the glass with one hand and warm it slightly to help release the aromas. Uncover the glass and take a quick sniff to perceive the aromatic notes of the oil. A quality olive oil will have fresh, fruity scents that may be reminiscent of herbs, leaves, fruits or other natural elements.
Taste evaluation: bring a small amount of oil to your mouth and swirl slowly, engaging all taste receptors. Pay attention to sweet, bitter and spicy sensations, as well as fruity or herbaceous notes. A good olive oil will have a harmonious balance between these components.
Retronasal and persistence: once the oil has been swallowed, inhale slowly to perceive the aromas rising from the throat to the nose. This step allows you to assess the complexity of the oil and its aromatic persistence. A quality olive oil will leave a pleasant sensation of freshness and cleanliness on the palate.
Final evaluation: taking into account the sensations perceived during the tasting, evaluate the extra virgin olive oil based on its harmony, complexity and persistence. With experience, you will be able to recognize oils of different qualities and origins, and identify the one best suited to your preferences and dishes.
Longino & Cardenal stands today as one of Italy's leading "food globetrotters." With passion and courage it carries out a continuous search for the best raw materials, often little known to most, in order to meet the new trends in consumer behavior that seek excellent products proposed in innovative forms. All our deliveries use specialized, refrigerated couriers.
---