Pairings with caviar: how to best enjoy it to appreciate its delicacy
Caviar is a fine and refined food with a delicate flavor and creamy texture. But how do you eat caviar? What are the best ways to enjoy this delicious dish?
First of all, caviar is eaten with a mother-of-pearl spoon so as to preserve its delicate texture and flavor. It is important to avoid eating caviar with your hands or with utensils, which could compromise the quality of the product. Caviar can be enjoyed on its own, so as to best appreciate its delicacy, but it also lends itself to numerous pairings with other foods, creating refined dishes with a unique flavor.
One of the best ways to enjoy caviar is on a blinis or slices of toast or crackers, which enhance its creaminess. You can add herbs to create a striking combination.
Caviar also pairs perfectly with cheeses, such as cream cheeses or goat cheese. The contrast between the delicate flavor of caviar and the strong flavor of cheeses creates a surprising and refined taste effect. In addition, caviar also goes well with many kinds of fish, such as salmon or tuna. You can serve caviar on slices of smoked fish or even in combination with eggs, for a great gourmet classic as a soft-boiled egg or in an omelet, creating a refined dish with a unique flavor.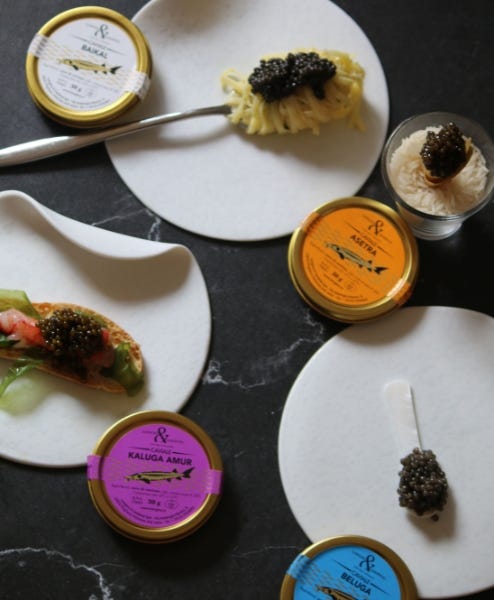 ---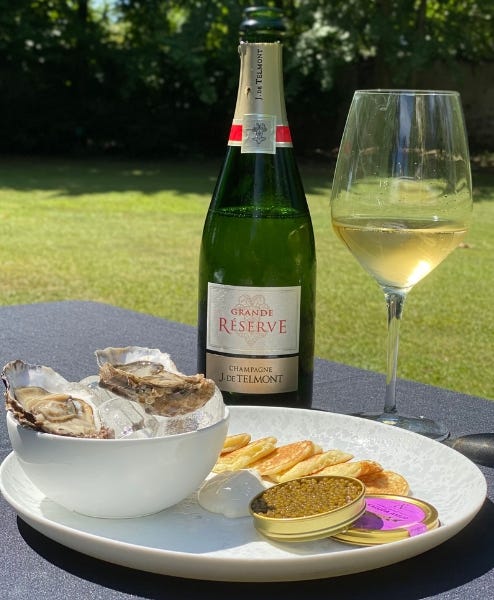 Fine pairings: how to enjoy caviar on special occasions
Caviar lends itself to pairings with many types of foods, creating refined dishes with unique flavor. Caviar is a fine and refined ingredient that lends a touch of elegance and exclusivity to any gourmet dinner. One of the reasons caviar is perfect for gourmet dinners is definitely its fine flavor: caviar brings a touch of sophistication and originality to any dish. For gourmet dinners, caviar can be used in numerous ways, as a main ingredient or as a garnish to enhance the flavor of other dishes.
Among the great classics of gourmet cuisine, there are definitely blinis with caviar, the perfect recipe for a truly exclusive poolside aperitif. This is a very simple recipe to make in just a few steps and with the finest ingredients: caviar, oysters and champagne!
For a truly original and certainly very refined appetizer, the egg with caviar is a recipe that manages to bring out the best in caviar. This is a classic pairing, with the egg playing the starring role along with potatoes and Baikal caviar. The perfect way to learn some basic everyday cooking techniques: cooking times for the egg barzotto and how to prepare potato mousse with a siphon.
Finally, to celebrate special occasions with a touch of romance, oysters with tuna tartare and caviar are the perfect Valentine's Day appetizer. A truly mouthwatering and aphrodisiac dish made with the highest quality products. Asetra caviar and bluefin tuna create an explosion of flavors and aromas that will win you over at the first taste.

---
Gourmet recipes with caviar
With its delicate flavor and creamy texture, caviar lends itself perfectly to numerous pairings with other luxurious ingredients, creating refined dishes with unique flavor. Among the finest, most sophisticated and gourmet pairings is definitely truffle, wagyu meat and spaghetti.
The latter recipe is a signature dish of gourmet cuisine that was first introduced in the 1980s by Maestro Gualtiero Marchesi. Gualtiero Marchesi's spaghetti with caviar is one of the most iconic dishes of Italian cuisine. This dish, born from the ingenuity and creativity of the famous Italian chef, has become a symbol of luxury and haute cuisine all over the world, and today it is reinterpreted by Tuscan Chef Daniele Rossi in a truly unique version. In fact, spaghetti with caviar is accompanied by a mousse of siphon potatoes, king crab and marine plankton.
Another way to impress guests with a dish in which caviar enhances the other ingredients is undoubtedly Daniele Rossi's exaggerated hamburger. This is a recipe created using a selection of fine products: A5 Wagyu hamburger, enriched with Asetra caviar, black truffle and Parmigiano Reggiano, in a delicious steamed black bread enriched with a food-grade gold leaf.
Another of the finest pairings is definitely with fish and oysters, creating unique dishes with a unique flavor. Chefs often use caviar as a garnish for fish dishes, such as sushi or tuna tartare, creating a striking contrast of flavors. In addition, chefs often use caviar as a garnish for meat dishes, such as Rossini-style filet, creating a striking combination.
---
How to choose the perfect drink for caviar
Caviar is a fine and sophisticated food that pairs perfectly with numerous top-quality beverages, creating unique pairings with a refined and unmistakable flavor. Let's see together which pairings are the most popular among experts. Champagne and sparkling wines are undoubtedly the most recommended drinks to accompany caviar. Their acidity and effervescence create a perfect balance with the delicacy of caviar, enhancing its flavor and creaminess.
Dry white wines, such as Sauvignon Blanc, Riesling and Chardonnay, also pair well with caviar. High-quality white wines have a freshness and acidity that marry perfectly with the delicate flavor of caviar, creating a surprising and refined taste effect. For cocktail lovers, martinis are a perfect choice to accompany caviar. The dry, bitter flavor of the martini marries perfectly with the creaminess of the caviar, creating a striking pairing. Alternatively, you can opt for the Black Russian cocktail, made with vodka and Kahlua, which has a strong and aromatic flavor. Finally, for a truly original and surprising pairing, you can opt for Japanese sake, which has a delicate and aromatic flavor. In Japan, sake is often paired with sushi and sashimi, but it also fits perfectly with caviar.
Discover the products

Longino & Cardenal stands today as one of Italy's leading "food globetrotters." With passion and courage it carries out a continuous search for the best raw materials, often little known to most, in order to meet the new trends in consumer behavior that seek excellent products proposed in innovative forms. Delivery of products is expected in 48/72 hours from the order if the product is already in stock. All our deliveries use specialized, refrigerated couriers.
---