Gourmet Recipes with Sea Urchin
Luxury and sophistication on the table: recipes with sea urchins
If you are a food enthusiast and love experimenting with new flavors, gourmet recipes with sea urchins are a great choice to surprise the palate and delight guests. Sea urchins, with their unique taste and delicate texture, offer an extraordinary culinary experience. In this article, we will guide you through a selection of gourmet recipes with sea urchins, allowing you to discover exclusive flavors and create delicious dishes. Get ready to indulge in the goodness of these sea delicacies!
Sea urchins are a prized and fascinating ingredient that has conquered gourmet cuisine for their versatility and tastiness. These precious little seafoods offer a range of unique flavors and a delicate texture that makes them the stars of delicious and sophisticated dishes.
Sea urchins are loved for their intense and slightly sweet flavor, which reminds you of the sea in every bite. Their nutrient-rich flesh is delicate and creamy, giving a pleasantly velvety texture to the dishes in which it is used. This ingredient is popular in Italian and Mediterranean cuisine, but its popularity is also expanding internationally.
Creative chefs and gourmet food lovers appreciate the use of sea urchins for their ability to enrich dishes. They add a note of luxury and sophistication to preparations, turning a simple dish into an extraordinary culinary experience.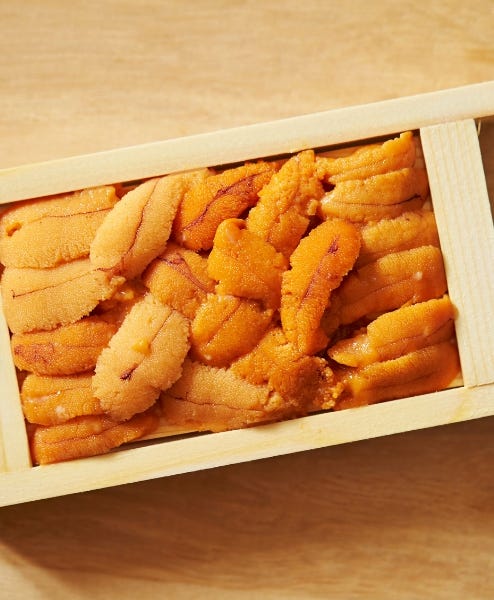 ---
Traditional recipes with sea urchins
Linguine with Sea Urchins: a dish that captures the soul of the sea. The pasta envelops the urchins, creating a symphony of intense and aromatic flavors. Each bite is a discovery, with the delicacy of the linguine blending with the unique taste of sea urchins.
Sea Urchin Risotto: a delicacy that will win over the most refined palates. The creaminess of the rice blends with the intense and slightly sweet flavor of sea urchins, creating an enveloping and irresistible dish. Each spoonful is an explosion of flavor, transporting you straight to the Italian coast.
Bruschette with Sea Urchins: an appetizer that will win over seafood lovers. Prepare crispy, toasted slices of bread and spread sea urchin flesh on them. Top with a drizzle of extra virgin olive oil, a pinch of salt and a pinch of black pepper. The result will be an explosion of Mediterranean flavors.
Sea Urchin Tartare: an elegant preparation that highlights the freshness of the urchins. Finely chop the flesh of the sea urchins and season with extra virgin olive oil, lemon juice, fresh parsley and a pinch of salt. Serve the tartare on lightly toasted bread croutons to fully enjoy.
Sea Urchin Soup: a comforting dish that recalls the flavors of the sea. Prepare a base of flavored fish stock and add fresh sea urchins. Simmer to let the flavors blend and serve hot, accompanied by bread croutons. This soup will be a true embrace of the sea on your plate.

---
Modern sea urchin recipes
Crispy Sea Urchin Risotto: a creative take on a classic. Make traditional risotto, but then create rice croquettes and fill them with a delicious sea urchin cream sauce. Fry the croquettes until crispy and serve them with a light sauce. This combination of soft and crunchy textures will surprise you!
Sea Urchin Salad with Tropical Fruit: A fresh and innovative sea urchin salad by combining the sweetness of urchins with tropical fruit. Dice pineapple, mango, and avocado and gently toss them with the urchins. Add a light lime and ginger dressing to enhance the flavors. This salad is a real explosion of exotic flavors!
Sea Urchin Cream with Black Pepper Croutons: a velvety cream using the flesh of the sea urchins and serve it with black pepper croutons. The creaminess of the cream contrasts with the crunchiness of the croutons, while the black pepper adds a touch of spiciness. This innovative recipe will give you a refined and unforgettable experience.
Sea Urchin Fritters: light and fluffy fritters using the flesh of sea urchins. Add herbs such as parsley and chives to give a fresh touch. Fry the fritters until golden brown and serve with a creamy lemon sauce. This innovative recipe will make sea urchins the stars of a tasty and original dish.
Sea Urchin Sushi: Combine the Japanese tradition of sushi with the Mediterranean flavors of sea urchins. Use nori seaweed to wrap the rice and urchins, creating unique sushi rolls. Add a fresh twist with avocado and cucumber, and serve with soy sauce and wasabi. This culinary fusion will take you on a taste journey between the East and the Mediterranean.
---
The future of sea urchins in gourmet cuisine
The future of sea urchins in gourmet cuisine looks promising and full of opportunities. These precious seafoods have gained increasing popularity among chefs and culinary enthusiasts due to their unique taste and versatility in cooking. One of the emerging trends is the use of sea urchins as a luxury ingredient in gourmet dishes. Their creamy, flavorful flesh is enhanced in sophisticated preparations, helping to create unique and refined dining experiences. Sea urchins often star in main dishes, appetizers or haute cuisine condiments, bringing a touch of elegance and originality to every course.
In addition, sustainability and the search for local and seasonal ingredients are becoming increasingly important in gourmet cuisine. Sea urchins, being natural products and sourced from the sea, offer an opportunity for chefs to use fresh ingredients from controlled sources. Their responsible picking and attention to the preservation of marine ecosystems can ensure a sustainable future for the use of sea urchins in cooking. The ongoing search for new flavors and culinary innovation offer great possibilities for the use of sea urchins in gourmet cuisine. Creative chefs can experiment with unusual pairings, unexpected ingredient combinations, and innovative cooking techniques to create unique and surprising dishes. The use of sea urchins can become a starting point for creating new recipes and exploring new culinary boundaries.
Scopri i prodotti e gli abbinamenti

Longino & Cardenal stands today as one of Italy's leading "food globetrotters." With passion and courage it carries out a continuous search for the best raw materials, often little known to most, in order to meet the new trends in consumer behavior that seek excellent products proposed in innovative forms. Delivery of products is expected in 48/72 hours from the order if the product is already in stock. All our deliveries use specialized, refrigerated couriers.
---