Red Prawn Mazara del Vallo: pride of Sicilian cuisine
The Sicilian Red Prawn of Mazara del Vallo has a history rich in tradition and culture. Its origins date back to ancient times, when Sicilian fishermen began fishing for this delicious crustacean in the waters of the Mediterranean. Red Prawn plays a key role in Italian culinary tradition, being at the center of many Sicilian dishes that enhance its distinctive flavor. With the growing popularity of Italian cuisine around the world, Sicilian red prawn has become synonymous with gastronomic excellence and authenticity.
Gambero Rosso di Mazara del Vallo is famous for its unique flavor and distinctive characteristics. Its tender and crunchy texture makes it a versatile ingredient, perfect for a variety of Italian cuisine dishes. The sweet and slightly salty flavor of red shrimp blends perfectly with fresh ingredients and Mediterranean flavors, creating unforgettable dining experiences. In addition, this crustacean is rich in protein, vitamins, and essential minerals, making it a nutritious and delicious addition to any meal.
The red prawn has become a symbol of pride and tradition in Sicily because of its constant presence in local cuisine. Sicilians' passion for red shrimp is also linked to their deep connection with the sea. Being an island, Sicily has a long tradition of fishing and a close relationship with seafood.
Moreover, the Sicilians' love for the Red Prawn is reflected in the care and attention they devote to its fishing and preparation. Sustainable fishing and selection techniques ensure the quality of this crustacean, while the skill of Sicilian chefs in its preparation enhances its flavor and makes it an irreplaceable ingredient in the island's cuisine.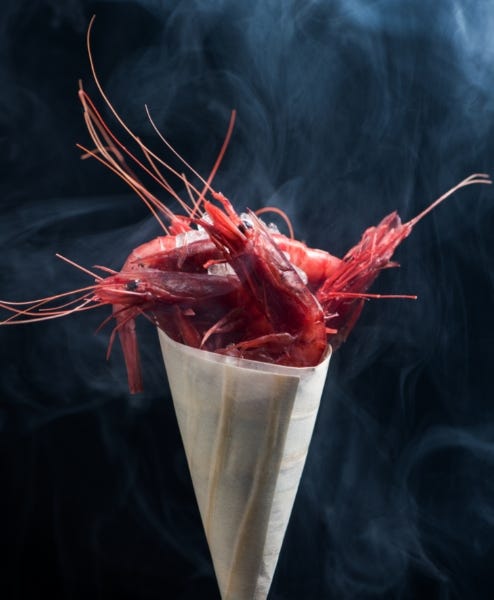 ---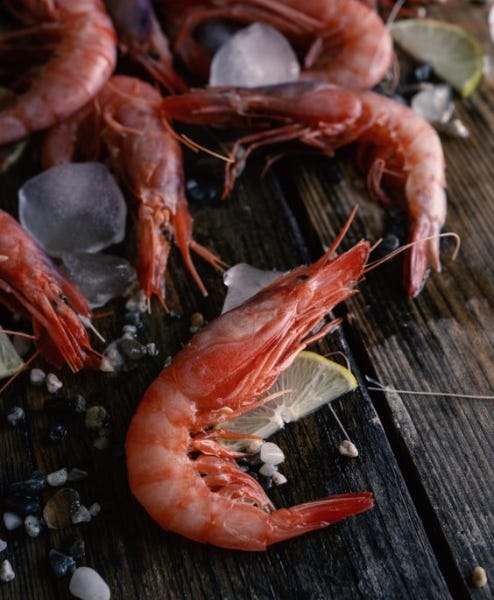 Nutritious and delicious, red prawn for healthy eating
The Mazara del Vallo red prawn is known for its delicious flavor and high quality. It has large antennae, and a flavorful and tender flesh that makes it highly valued in Mediterranean cuisine. It is fished exclusively in the waters near Mazara del Vallo, Sicily, and is caught using traditional methods. The Mazara del Vallo red shrimp is considered a luxury product and comes at a high cost, but it is highly valued by seafood enthusiasts mainly because this shrimp is a highly nutritious food that offers many health benefits.
In particular, Mazara del Vallo red shrimp is rich in high-quality protein, making it an excellent source of energy and nutrients for our bodies. In addition, it is free of carbohydrates and fat, making it an excellent choice for those who want to follow a low-calorie diet.
This red shrimp is also an important source of omega-3 fatty acids, substances that are essential for the health of our bodies. Omega-3s help protect the heart, reduce inflammation, maintain a healthy nervous system and increase cognitive ability.
In addition, Mazara del Vallo red shrimp also contains important amounts of vitamins and minerals. In particular, it is an important source of B vitamins, including vitamin B12, which plays a key role in the production of red blood cells and the maintenance of the nervous system. It also contains minerals such as iron, zinc, and selenium, which play an important role in maintaining bone health and the immune system.

---
The sustainability of Sicilian prawn: a virtuous model
The Mazara del Vallo red prawn is a gastronomic product of excellence that represents a cultural and food heritage of inestimable value. For this reason, fishing for the Mazara del Vallo red prawn is carefully regulated to ensure its sustainability and the preservation of the marine ecosystem. Fishing for this crustacean occurs only during a limited period of the year, when the shrimp is most abundant, and the fishing techniques used are traditional ones, such as pot fishing.
In addition, fishing for Mazara del Vallo red prawn is carried out only by small local boats, which use equipment with low environmental impact. This ensures the reduction of effects on the marine environment and the preservation of biodiversity. Red shrimp feed on a variety of marine organisms, such as mollusks, crustaceans, worms, and small fish. In particular, Mazara del Vallo red shrimps also feed on sea urchins, crabs, mollusks, and other crustaceans. This type of feeding contributes to their coloration and flavor, which makes them valued worldwide as a prized ingredient in Mediterranean cuisine.
Regulations governing the Mazara del Vallo red prawn fishery have been adopted in collaboration with local communities and industry authorities to ensure the sustainability of the fishery and protection of the marine environment. In addition, many fishing companies are investing in research and development programs to improve fishing techniques and promote the sustainability of the entire production chain.
The sustainability efforts of the Mazara del Vallo red prawn is an example of how it is possible to reconcile the needs of the economy and the food sector with the protection of the environment and biodiversity. The sustainable fishing of the Mazara del Vallo red shrimp also represents an opportunity for the promotion of sustainable tourism through the enhancement of local products and traditional activities.
---
The red prawn of Mazara del Vallo in Sicilian culture
Sicilian culture is deeply linked to the sea and fishing, and among the region's most prized seafood products certainly include the Mazara del Vallo red shrimp. This crustacean represents a symbol of Sicily's culinary tradition and seafood culture. The Mazara del Vallo red shrimp has long been considered a prized and luxury food, appreciated by the most refined palates all over the world. In addition, the red shrimp of Mazara del Vallo has been included in the list of traditional Italian agri-food products (PAT) of the Ministry of Agriculture, Food and Forestry, testifying to its cultural and gastronomic value.
Sicilian culture, in fact, is closely linked to fishing and sea life, which have always represented a source of livelihood and identity for the local population. Red shrimp, in particular, are a staple of Mediterranean and Sicilian cuisine, and are used in many traditional recipes. The Mazara del Vallo red shrimp is also the protagonist of many festivals and folk festivals throughout Sicily, where it is offered in many gastronomic variations. In particular, the city of Mazara del Vallo hosts the annual Red Shrimp Festival, an event that celebrates the crustacean and its importance to Sicilian culture and gastronomy.
But the relationship between Sicilian culture and red shrimp goes far beyond their use in cooking. In fact, the Mazara del Vallo red shrimp fishery represents an ancient tradition, passed down from generation to generation, that testifies to the importance of the sea and fishing to the local community. Red shrimp fishing in Mazara del Vallo is still carried out today with traditional techniques, using creels to catch the crustaceans without damaging the marine environment.
Discover the products

Longino & Cardenal stands today as one of Italy's leading "food globetrotters." With passion and courage it carries out a continuous search for the best raw materials, often little known to most, in order to meet the new trends in consumer behavior that seek excellent products proposed in innovative forms. All our deliveries use specialized, refrigerated couriers.
---