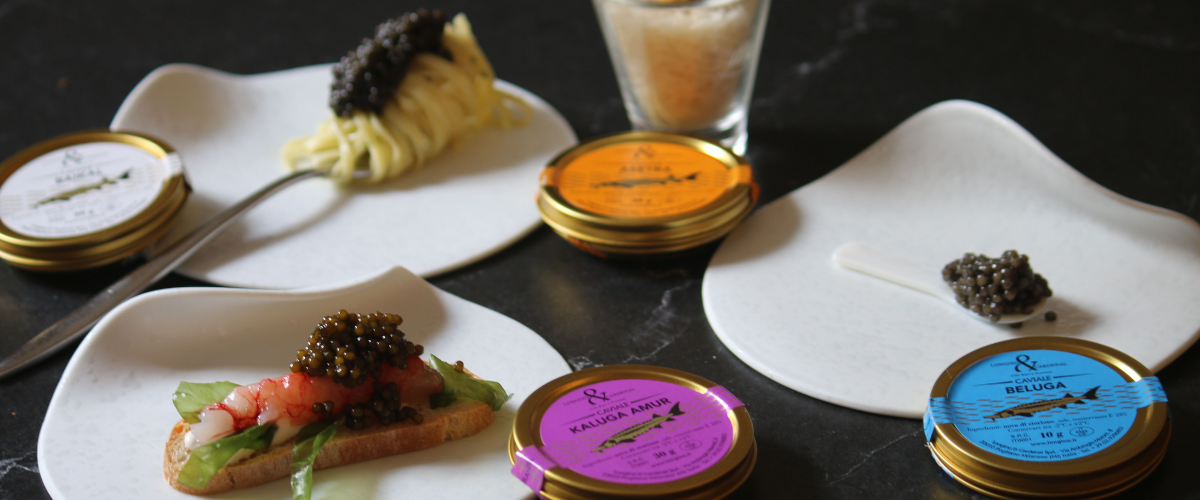 Today our company chef Giorgio Guglielmetti, together with Rodrigo, shows us some tips on how to eat caviar. In this recipe he has set up a kind of horizontal tasting that includes different typologies of caviar prepared in different ways, so as to enhance the taste properties of each of them.
The first tasting is, of course, pure Beluga Caviar on a mother-of-pearl spoon.
The second dish is a crouton with Kaluga Amur Caviar, red shrimp, sea lettuce and creme fraiche.
We then move on to another finger food: a potato and spinach sheet with yuzu whipped butter and Asetra Caviar.
To finish, cold noodles with chives with Baikal Caviar, a tribute to the famous Italian chef Gualtiero Marchesi.

4 idea for CAVIAR TASTING | Beluga, Asetra, Kaluga and Baikal


Baikal Caviar 30 g

Egg Tagliolini 40 g

Chives

Kaluga Amur Caviar 30 g


Bread 4 slices
Sea Lettuce

Red Prawns 4

Creme fraiche 40 g

Asetra Caviar 30 g


Potato and spinach sheet 1
Butter 50 g

Yuzu juice 2 tsp


Beluga Caviar 30 g
Cut out a square of potato and spinach sheet and fry for 3-4 seconds, dry and give it a cone shape

Whisk together the butter and yuzu and fill the cone

Finish with the Asetra caviar

Place the Beluga caviar on top of mother of pearl spoon

After cooking the noodle, season it with chives and evo oil

Wrap the noodle on the fork and place the Baikal caviar on top

Toast the bread croutons in the oven and, in the meantime, clean the Sicilian red shrimps

Rinse the sea lettuce to remove its salt

Spread some creme fraiche on the bread crouton, lay the sea lettuce on top, place the red shrimp and top with the Kaluga Amur caviar